Local Information 

Conference and Summer School Venue
IPCO 2022 takes place at Eindhoven University of Technology which is located at De Zaale, Eindhoven. If you are staying at the city center, you can reach the university by a less than 20 minutes walk (see map below and click here for a bigger view)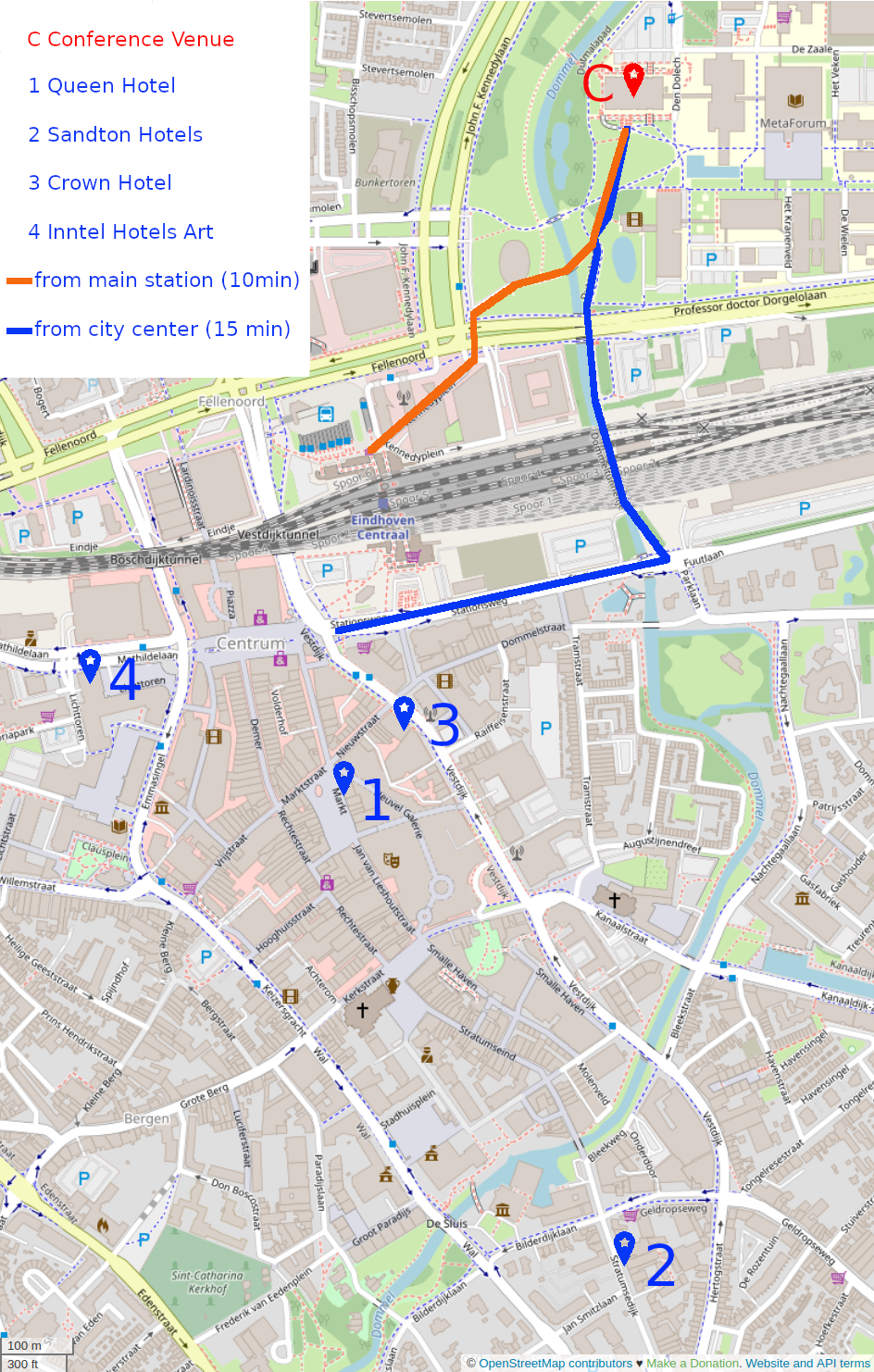 .
Both the summer school and conference take place at the Auditorium building. The summer school takes place in room AUD 2 and the conference in the Blue Hall (Blauwe Zaal). Coffee breaks are organized right behind the Blue Hall, where also the Poster Session will take place. A map of the campus can be found here 
Conference Dinner
The conference dinner takes place at Stories on Tuesday evening, June 28. The restaurant is located in the creative district Strijp S (Torenallee 22-02) and can be reached by a less than 30 minutes walk from the conference venue. Alternatively, it can be reached by bus from the main station. Take one of the buses of lines 401, 402, 403 and change at bus stop Strijp S.
Getting Around
From the city center, the conference venue and restaurants/bars are within walking distance.
If you want to use taxi services, you can book a ride, for example, with Taxicentrale Eindhoven
There are also lots of bus lines that are operated in Eindhoven. Many of these lines serve the main station or nearby bus stops from which you can reach the conference venue within a less than 10 minutes walk. The bus lines are operated by Hermes and tickets can be bought directly from the bus driver. Buses only accept payment by debit or credit card (MasterCard, Visa, or American Express). If you are staying longer in the Netherlands, you might want to consider to buy an OV chip card. This electronic card can be used throughout the whole country for public transport and offers reduced fares in comparison with buying tickets directly on the bus.
Dining & Night Life
The lively city center of Eindhoven offers many possibilities for lunch, dinner, and night life. Many restaurants for different types of budgets can be found next to the market place (Markt). There you can also find many bars, in particular in the road Stratumseind. Many cafes and restaurants offering international (street) food can be found in Kruisstraat; high quality restaurants can be found, for example, in the roads Kleine Berg and Grote Berg.
Covid-19 Regulations
All measures against Covid-19 have been lifted by the Dutch government.
In particular, wearing face masks is not mandatory anymore. To ensure a safe environment for everyone, all participants are asked to behave responsibly, see also the advice of the Dutch government.
IPCO 2022

Registration website for IPCO 2022
IPCO 2022reservations@tue.nl
IPCO 2022reservations@tue.nlhttps://www.ipco2022.com/home
2022-06-27
2022-06-29
OfflineEventAttendanceMode
EventScheduled
IPCO 2022IPCO 20220.00EUROnlineOnly2019-01-01T00:00:00Z
To be announced
To be announced